Andy Palmer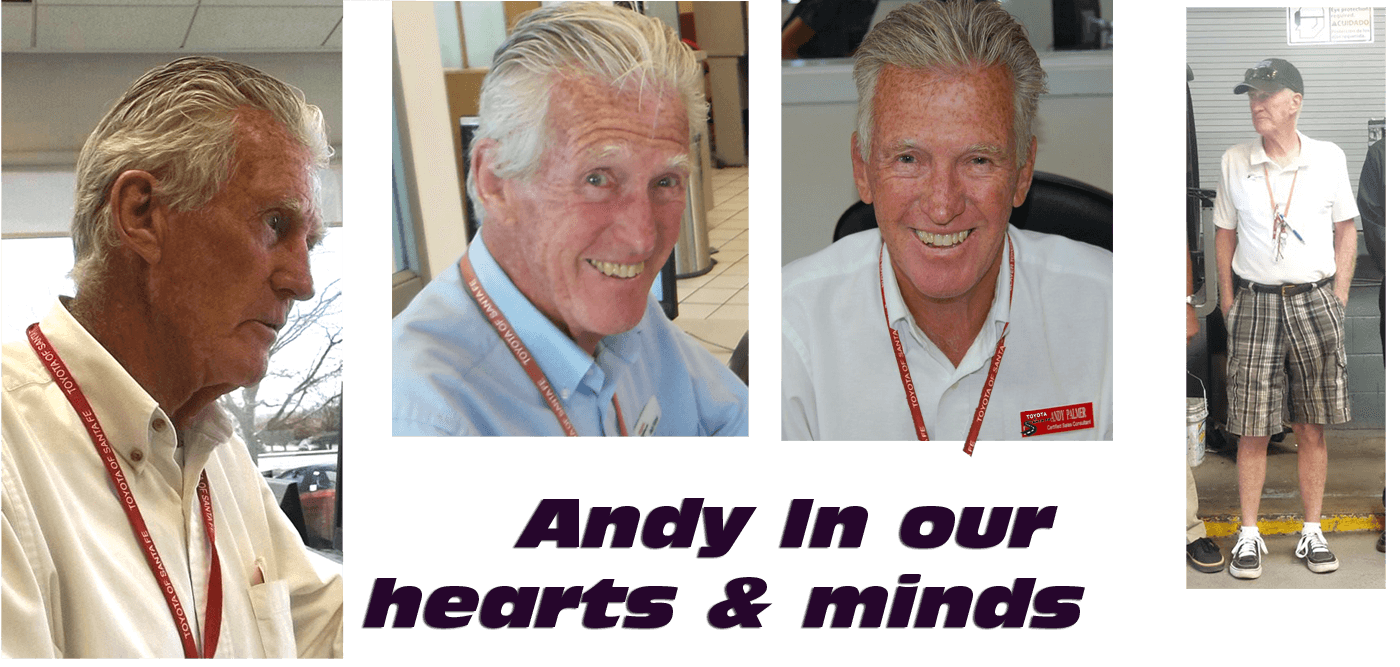 A little sadness fell on Toyota of Santa Fe this week.  The staff learned of the loss of a beloved fellow buddy,  Andy Palmer.
Andy, this page is for you.  You remain in our hearts and minds.

Andy Palmer was proud of the fact he held the record for our oldest salesperson.  He was with our dealership for well over 10 years.  During his tenure he worked as Delivery Specialist, Service Greeter, Online Sales, Floor Sales,  Accessories Sales, and so much more.
In additional to automotive sales and service, Andy was also an accomplished Business Consultant with his own business, Palmers Business Consultant.   From his Linked in page.
FOR 18 YEARS IN CALIFORNIA I WAS A BUSINESS CONSULTANT, BOOKKEEPER( FOR RETAIL BUSINESSES), AND INCOME TAX PREPARER. i UNDERSTAND CREDIT REPORTS, INCOME TAX RETURNS, AND FINANCIAL STATEMENTS.
I HAVE BEEN IN THE CAR BUSINESS FOR 12 YEARS AND I HAVE HAD AN INCOME TAX BUSINESS FOR 32 YEARS. MY OBJECTIVE IS TO ALWAYS TAKE GOOD CARE OF CUSTOMERS SO THAT THEY WILL COME BACK TO GIVE US MORE BUSINESS AND TO RECOMMEND THEIR FRIENDS TO ME/US.
Here's just a few of the many comments from staff..
Remembering Andy
"Anyone who knew Andy, knew he was the salt of the earth type of person. He was gentle and had strong integrity, honest and an overall  a wonderful person. I am personally very saddened today to have lost a friend. "    from Buddy Espinosa
"He was very loved by all. I think everyone in Santa Fe knew Andy Palmer for his kindness to everyone he meet. Always smiling. He will be missed by all. "    from Audrey Allison
" Prayers for Andy and his family." from Raul Gallegos
"Andy you were a kind and gentle soul who got along with everyone.  You were always willing to assist others with any task at hand.   I thank you for helping and assisting me in understanding many Toyota products when I first came aboard 7 1/2 years ago.  May you Rest In Peace my friend!  Dios te Bendiga!"    from Trini
"The world is a little less pleasant with you gone Andy! Rest in peace…….."  from Jamie Dunn
"Rest In Peace Andy "flash" Palmer"   from Pablo Manzanares
"GOD BLESS YOU ANDY PALMER, may your soul be at peace and your spirit fly free and without bounds…… " from Joe Anchondo
That enthusiastic manner.  Andy was always happy to be of service.
We frequently include our staff in group shots behind Buddy for the commercials.  We can always count on Andy to participate.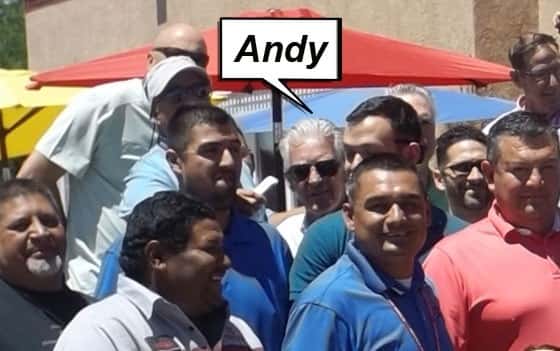 Andy Volunteered to pull the names of a winner earlier in the year.   Here' s our last video of  Andy on job
Andy with Daniel.

Andy was a strong advocate for his customers. 
Andy drew the winners name AND delivered the prize too.