Buy Online at Toyota of Santa Fe
Start Your Own Deal in Minutes
On both New and Used Vehicle Listing pages, look for the red button


to start building your real-time deal.
This will begin the process to have vehicles added to your garage.
Customize Your Monthly Payment
You'll have full control over the down-payment and terms of your deal so you can get the numbers just right and you won't have to wait for a salesperson to desk it.
Compare and Save Real-Time Bank Offers
What your garage will do? get real time bank offers on your payment. Compare customize payments for similar vehicles. submit instant credit app and skip the paperwork. Requires first and last name, zip code and either text number or email address. Remember the number you choose. That's how get your key.
Get an offer for your trade-in and even upload pictures of it so we can get the finalized numbers worked into your deal for the most accurate payment quote.
Once you've set your deal, you can even fill out a full credit application that we'll use to confirm your approval with the bank for the deal that you've built.
HOW TO ACCESS ONLINE SHOPPING
First look for the online shopper button on any new or used vehicle.
It will be the red "shop online button" on the right.  
When you click on the shop online option,…you are able to add a vehicle to your garage. If you don't have a 'garage' yet, you will be invited to sign in with your first name, last name, zipcode and either your cell number or email. The cell number or email will be used to get you your garage key. If you give your cell number – you'll get a text with it. If you enter your email, you'll get it that way. Remember which phone number or email you used. You'll need it again.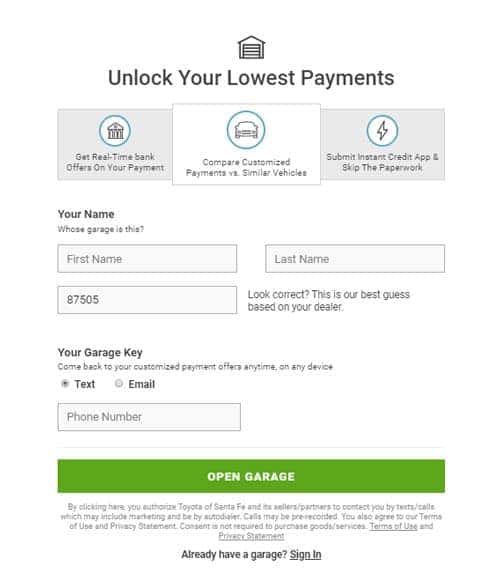 The Garage Key
what is your garage key
The garage key is the code sent to you to access your online shopping account.
How to get a garage key
The cell number or email address you initially used to log-in will be used to get you a garage key. If you give your cell number – you'll get a text with it. If you enter your email, you'll get it that way. When you receive the key code, you enter it into the form  to unlock the garage.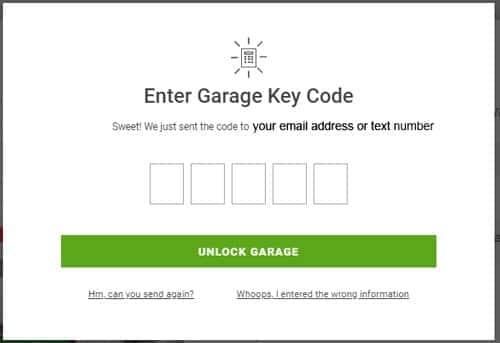 After entering your garage key, you should see your vehicles.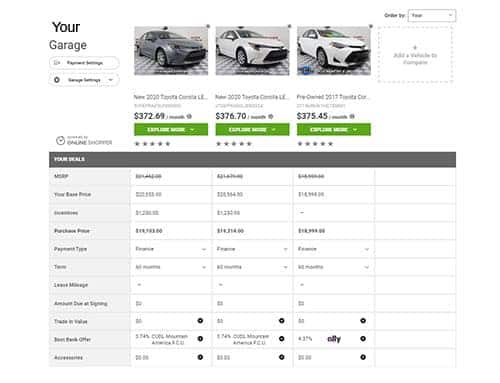 Cllck the box that says "add vehicle to compare".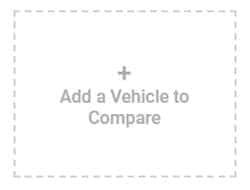 . it will take you to inventory pages.
The box that said "shop online" now has "add to garage".
Click the button for the vehicle you want to add.
Explore More. You can reserve the vehicle to discuss on the phone or continue the deal online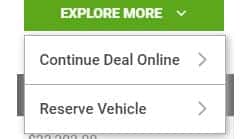 Continue Deal Online.
*Must provide Downpayment to reserve a vehicle.