Delivery

SPECIAL SAFE SPACE DELIVERY OFFERS
These are a few of the special arrangements we've made to increase your safe space during the coronavirus alert.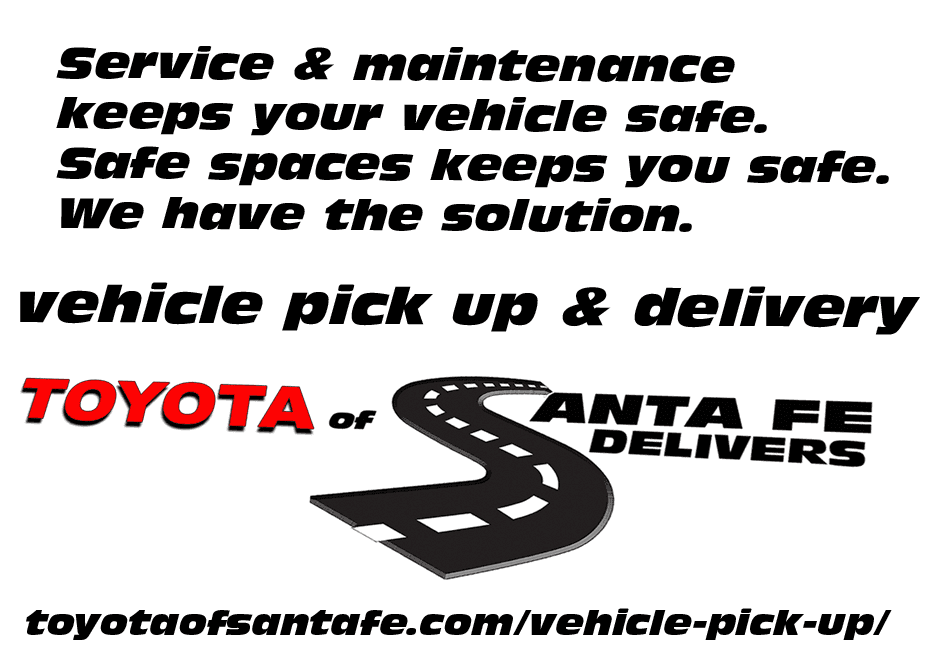 Schedule service appointment and request a limited time no charge pick up and delivery. Limited to Weekdays. Santa Fe City Limits only. Call the service hotline 505-780-4767.  Visit our
vehicle pick up page
for  more details
Shop our website for your next car, truck or suv.  Select online chat for help, text or call our hotline 505-629-1995
Get your trade appraised online. We'll pick it up when we delivery your new one.
Our Online Shopper Program will help guide you through the online purchase process.
Select your vehicle with help from your online sales consultant
Paperwork is completed on the phone and via email  with one of our Financial Managers  by appointment*
Delivery of your vehicle is scheduled by appointment* to your home or office anywhere in New Mexico.  Safe space rules will be honored. AND no one will enter your home.
*Appointments are available 10am-6pm to review final paperwork over the phone and to schedule delivery of your vehicle.
We've offered no charge delivery state wide for many many years. We've updatedDelivery available statewide.
LETS GET STARTED!
Buddy Plan # 6
No Charge Delivery

What No Charge Delivery Means
HERE'S BUDDY PLAN #6.
BUY ONLINE AND WE'LL DELIVER YOUR CAR FOR NO CHARGE ANYWHERE IN NEW MEXICO! YOU DON'T EVEN HAVE TO COME TO US. \WE'LL COME TO YOU!
YOU'VE GOT A BUDDY IN THE BUSINESS AT TOYOTA OF SANTA FE
Toyota of Santa Fe will deliver any new or used vehicle purchased online anywhere in New Mexico. Limited to initial delivery of the vehicle after purchase. See dealer for details.
Plus if we don't have what you want, we'll help you to get it. Its Buddy Plan #3.
IF WE DON'T HAVE WHAT YOU WANT, WE'LL HELP YOU TO FIND IT!. With over 20 dealers in our group, we have access to a huge selection of new and used inventory. So if we don't have what you want, we will help you to find it.