PET CAPADES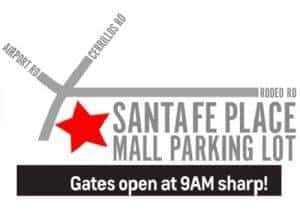 Its time to vote for the pets with the best tricks. We've narrowed it down to make it easy.  Vote on Youtube or facebook.   Any likes translate to votes to make it easy.
Saturday, May 20th from 11am-1pm, we invited friends, family and staff to bring their pets to demonstrate their best tricks.  On display were tips and accessories you can equip your vehicle to make traveling safer.
All participants received family four pack to Santa Fe Day at the Isotopes while supplies last.

You missed the Pets Capades? Here's what we did..
Pet Capades Rules
Rules will be as followed.
Limited to pets that can be led on leashes. Animals must be friendly around people and other animals. Prizes are based on availability. Must be 18 to win. Children must be accompanied by a parent or legal guardian 18 plus. You must provide water for your pets. Space is limited.
REGISTER TO WIN PRIZES FROM OUR EVENT
Prize give away of Charlie Daniels tickets was May 18th. The Last of the Santa Fe Day at the Isotopes were given away May 20th during our Pets Event. Visitors registered online or in person at Toyota of Santa Fe or at the Big White Tents at Santa Fe Place Mall.
Charlie Daniels Band Concert Giveaway
The Charlie Daniels Band concert was May 19th.  Toyota of Santa Fe with Outlaw Country will give away a pair of tickets on May 18th to those that entered to win our contest.
Purchase tickets at Tickets.com or casino box office.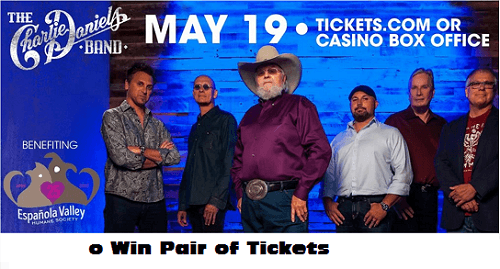 Rules for Charlie Daniels Giveaway
Tickets are limited. Grand Prize winners must register to win at the Toyota of Santa Fe Offsite Event or at ToyotaofSantaFe.com/Contest
Winner must be at least 21 or older to be eligible. Hutton Broadcasting and Toyota of Santa Fe are not liable in the event of concert cancellation. Attend at your own risk.
 OTHER PRIZES
We gave away Family 4 Pack to other Isotope Games! Reserved Tickets to Pat Benatar Concert at Sandia. To be given away at the Recycle Event in June.
Santa Fe Isotopes Tickets Giveaway
Santa Fe Day Isotopes tickets to be given away all week to those entering to win prizes that week.   We'll also be giving them to the winner of our Pets-Event on Saturday,  May 20th.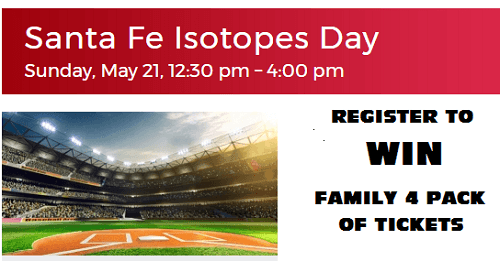 Rules for Isotopes
Winners must be adults ages 18 or over. Hutton Broadcasting and Toyota of Santa Fe are not liable in the event of concert cancellation. Attend at your own risk. All prizes are subject to change without notice.
DONATION DRIVE
Our donation drive for Espanola Valley Animal Shelter is May 17-21. Please drop off donations at the Pets Tent adjacent to the Big White Tent at Santa Fe Place Mall.
WHAT TO DONATE

Old Blankets and towels can be used for bedding, grooming and cleaning up around the shelter. This is a great time to put old Pet Toys to good use. Clean, duraboy toys that can be disinfected help keep pets healthy and low stress. Please no catnip toys or squeak toys. The gift of food is appreciated. Due to storage limits,  its best to stick with canned food. Canned tuna in water or Canned Pet food. To donate your time or money, please visit the shelters donation page.

How to help a pet left in a hot car
If you see pet left in a hot car, please take these steps.
Take down the car's make, model and license-plate number.
If there are businesses nearby, notify their managers or security guards and ask them to make an announcement to find the car's owner. Many people are unaware of the danger of leaving pets in hot cars and will quickly return to their vehicle once they are alerted to the situation.
If the owner can't be found, call the non-emergency number of the local police or animal control and wait by the car for them to arrive.
In several states good Samaritans can legally remove animals from cars under certain circumstances, so be sure to know the laws in your area and follow any steps required.
SEAT BELTS ARE ALWAYS A GOOD IDEA
There's a reason people use seat belts. Its no different for your pets. Restraining them in a vehicle protects them in the case of an accident and reduces the chances of distraction for the driver. If possible use a carrier. But for larger pets, if you travel in a larger vehicle, a pet barrier might make more sense.