This is a Benefit for Santa Fe Search and Rescue

SAVE THE DATE
SATURDAY APRIL 13th
10am-3pm.
Items to be accepted
Computers Servers Laptops Keyboards Wire Cords
Computer mice Printers, scanners, copiers, fax machines
LCD monitors CRT monitors Ink & toner cartridges
Telephones Cell phones Hand-held electronic devices
Batteries UPS backup batteries Stereos & speakers
Cameras CD/DVD players VCRs File cabinets
Paper shredders Switches Routers Docking stations
AC adapters Power supplies Household appliances
Portable heaters Projectors.
Bring your old computers, stereos, printers, cameras, or just about anything with a plug (except TVs and microwaves.)
Get a Tax Write-Off for the electronics you recycle.
Toyota of Santa Fe will be donating 10 cents /poound to a worthy non-profit.  This will be matched by Electronic Recyclers.
Join us to help the environment and a great cause!  .
What to Bring
Please no TVs.
LOCATION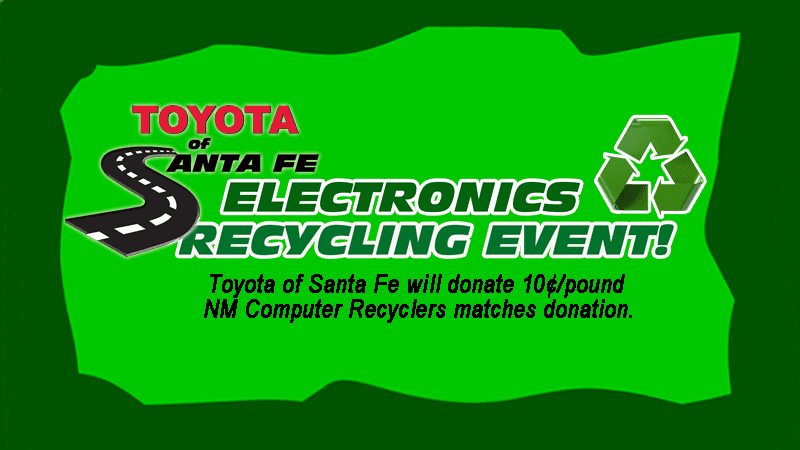 Early Drop Off April 1 – 13th
2 locations
Toyota of Santas Fe Main Location: 1601 St. Michaels, Santafe
Express Maintenance: 1920 Cerrillos Road, Santa fe
Bring more used electronics on  April 13th to 1600 St Michaels Drive.  That's the old location of Santa Fe University of Art & Design.  It is just across the street from the new location of Toyota of Santa Fe.    New Mexico Computer Recycling team will be on hand to help accept your recycled materials. We'll also be there to share tips on how you can stay green for the rest of 2019. See some of Toyotas most fuel efficient vehicles.