Tailgate Offers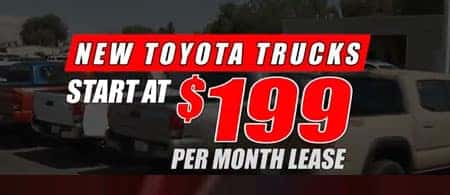 Shop Now
New 2017 Toyota TACOMA SR 4×4 DOUBLE CAB Model 7594 Automatic Transmission $199/month lease. Vin # 3TMCZ5AN1HM112809. Featured Equipment 2T, FE, LL, TO, DK. Based on 36 month lease/ 12000 miles per year with tier 1 plus credit approval through TFS. No security deposit.. $5000 plus fees due at signing. Plus tax, title, license, first payment, $650 acquisition and $369 dealer service delivery fee. Gross Cap Cost including acquisition $31,522. All offers end 11/30/17
New 2018 Rav4 LE AWD. model 4432. $149/month Vin # JTMBFREV2JJ175393 Featured Equipment 2T,FE, RR,. . Based on 36 month lease/ 12000 miles per year with tier 1 plus credit approval through TFS. No security deposit.. $6500 cash or trade plus fees due at signing. Plus tax, title, license, first payment, $650 acquisition and $369 dealer service delivery fee. Gross Cap Cost including acquisition $25,469. All offers end 11/30/17
STOCK #: 8U058845T. used used 2008 Toyota Camry Hybrid . Buddy Price $8991. Automatic transmission Price does not include tax, title, license or $369 dealer transfer service fee. Quantities limited. While Supplies Last. Prices subject to change without notice. All offers end 11/30/17
REGISTER TO WIN PRIZES
Register to Win through any Toyota of Santa Fe sales person or  online.   Prizes Change Monthly
Click on the Link below to see highlights of past events.
How Much can a Tundra carry? Toyota of Santa Fe found out by filling it with non-perishable food and cases of bottled water donated to New Mexico's Food Depot.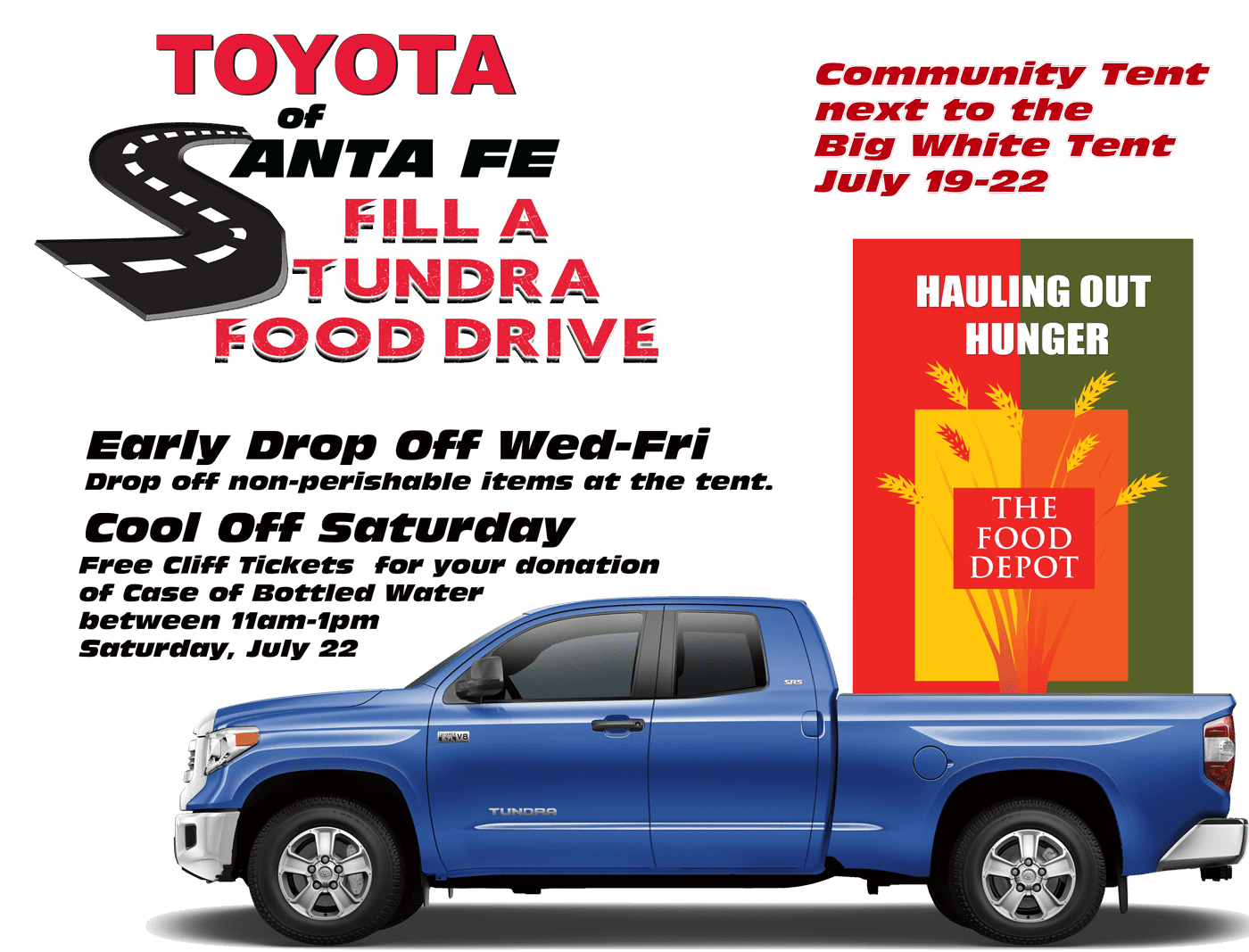 FILL A TUNDRA FUND & FOOD DRIVE
WHEN: Wednesday July 19th thru Sunday July 23rd.
With school out, many families depend on food donations to make it through the summer. To ensure no one goes hungry, Toyota of Santa Fe is encouraging its staff, customers and friends to donate non-perishable food and bottled water to the Food Depot.  Donations should be dropped off starting Wednesday July 19th through Sunday, July 23rd.  Toyota of Santa Fe will make  a cash donation depending on the number of Tundra Truckloads we collect. 1
See the new Tundras  on display. Register to win valuable prizes. Free Refreshments!
BE COOL DAY!
WHEN:  Saturday, July 22nd
Meet your favorite on-air personalities from Outlaw Country. First to arrive will receive free gifts2 from Toyota of Santa Fe and Outlaw country.  Anyone that donates a case of bottled water on Saturday July 22nd from 11am-1pm will receive a family 4 pack to Cliffs Amusement Park3.  For those that cannot make it during that period, a Toyota of Santa Fe Representative will be available from 10am-3pm with family 4 packs of tickets to Cliffs from 10am-3pm.
Most Needed Items!
Most Needed Items
Food

Canned Fruits & Vegetables
Soups, Canned & Dried
Peanut Butter
Canned Tuna, Salmon & Meats
Canned or Bottled Juices
Cereal
Oatmeal
Beans, Canned & Dried
Rice, Dried
Pasta, Dried
Milk, died or Evaporated
Infant Formula
Baby Food
Apple Sauce
Flour & Cornmeal
Macaroni & Cheese
Canned Pasta
Raisins & Other Dried Fruits
Pasta Sauce, Tomato Sauce
Nuts & Seeds
Macaroni & Cheese

Canned Fruits & Vegetables

Personal Care Items

Bar Soap
Toothpaste & Toothbrushes
Deodorant
Shampoo
Conditioner
Toilet Paper
Dish Soap
Disposable Diapers
Rice, Dried

Personal Care & Household Products
DISCLAIMERS!
1The back of each tundra must be filled with Food donations and/or bottled water. Toyota of
Santa Fe will donate $250 for each truckload of book collect with a maximum of up to $1000.
2While supplies last.  One gift item per person.
3While supplies last.  You must bring a case of bottled water to the community tent adjacent to the big white tent on Saturday, July 22nd between 10am – 3pm to receive the family four pack of Cliffs Amusement Park Tickets.  One "Family Four Pack" per person.