Toyota of Santa Fe Awards


Santa Fe Reporter Readers vote Toyota of Santa Fe Best Car Dealership for the 4th year in a row
Toyota of Santa Fe wins again.  During the annual "Best of Santa Fe" Contest,  Toyota of Santa Fe has won best car dealer in 2015, 2016, 2017 and 2018.   Toyota of Santa Fe also won Best Car Repair of Santa Fe.   Read More.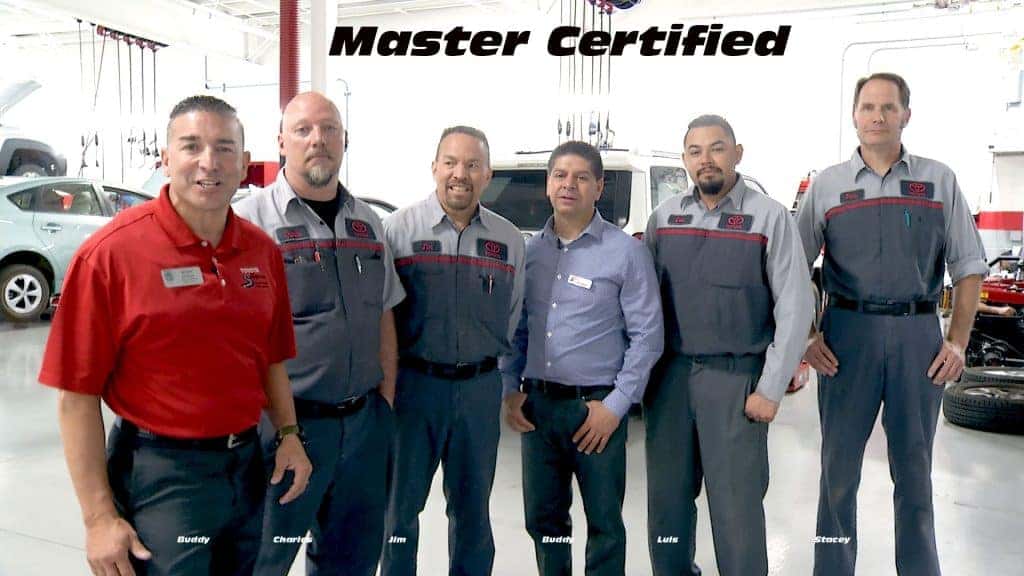 Most dealers are happy to have one Master Certified Technician.  We have four!
Pictured above, General Manager Buddy Espinosa with Service Director Paul Sandoval and our Master Mechanics.  From Left, Charles Roberts has over 18 years' experience.   Jim Garcia, our logo designer is also a master certified mechanic with Toyota for 31 years.     Luis has 11 years' experience as a mechanic. He recently became our newest Service Advisor.  On the far right, Stacy has over 36 years' experience with Toyota.

DealerRater awards Toyota of Santa Fe Dealer of the Year for 2017
Toyota of Santa Fe Wins 2017 DealerRater Toyota Dealer of the Year Award which recognizes top U.S. and Canadian auto dealers demonstrating excellent customer service as expressed by consumer reviews written on DealerRater.
The dealership is also among the top auto dealers in the U.S that demonstrate excellent customer service, as rated by online consumer reviews for the second year in a row!  Read More.
Presidents Award In Our First Year
Its nearly unheard of for a store to earn Toyota's President's Award in your first year as a new dealership. How did Toyota of Santa Fe do it? For one, the store kept most of its highly qualified staff.
So, what exactly is the "Presidents Award" and what does it mean to our customers?
---
What is the Presidents Award?
Each year Toyota Motor Sales recognizes its finest dealerships with the prestigious President's Award. The President's Award honors Toyota dealers that excel in all facets of their operations. It is recognition for dealerships that continue to go above and beyond at each customer touch point and represent the best of the best.
Toyota of Santa Fe received the President's Award for Customer First from Toyota in its first year under the new ownership. This is highly unusual for a new dealership. Our region nominated us because they felt our dealership was able to achieve the high standings required.
What does it mean to you?
Several key areas are measured before a dealer is even considered. All of these areas have to do with how well we serve our customers. Every sale, every service is measured. This award measures how well we take care of customers like you.
Other Standards of Excellence
The Buddy Plan
When Beaver Toyota of Santa Fe became Toyota of Santa Fe, every employee became a buddy. Each of us is an advocate to make sure you receive the product or service that is right for you. You aren't an outsider at this dealership. You are part of our family and we treat you as such. We have a special area for your children and offer free treats for your pets. We open at 7am for our service customers and stay open until 8pm for our sales customers. We will deliver any vehicle you purchase to you anywhere in the state.
Service Excellence
Our Service department is in the top 3 in the district. We have some of the most experienced technicians in the state. Most dealerships strive to have one master certified service technician1. We have five.
Sales Excellence
Our sales staff is trained to ensure our customers receive accurate and superior assistance in selecting the right vehicle for them. Each salesperson is required to be certified within a year of their employment and to maintain their certification. Because of this, three of our salespeople have received special national recognition by Toyota. But the most important measurement is by our customers. Toyota of Santa Fe currently has 4.8 of 5 stars on DealerRater, an automotive dealer review site.2
Best of Santa Fe
This is a recognition as a result of an annual readers survey by the Santa Fe Reporter. Toyota of Santa Fe received back to back awards in 2015 and 2016.
1http://www.ase.com/Tests/ASE-Certification-Tests/Test-Series/Master-Status.aspx
2 Review status as of 11-15-16.
About Us Contact Us The Buddy System
11aDealer Rater Award: http://www.dealerrater.com/dealer/Toyota-of-Santa-Fe-review-15827/. Toyota of Santa Fe was named the Dealer of the Year for 2013 and 2017 in New Mexico. AND received the 2016 and 2017 Consumer Satisfaction award. http://www.toyotaofsantafe.com/dealerrater/
11b Best of Santa Fe: As awarded by The Santa Fe Reporter based on votes received. Toyota of Santa Fe was named the "Best of Santa Fe" in the car dealership for 2015, 2016, 2017 and 2018.  Toyota of Santa Fe also won Best Car Repair of Santa Fe.
11c Our Toyota Sales & Service Professionals are required to take regular training to maintain their certifications. Most of our staff has ten years experience or more. Most dealerships strive for at least one master mechanic. We have four!