Best of Santa Fe
VOTE US BEST OF SANTA FE In 2021

Thank you New Mexico! For voting us Best Car Dealer of Santa Fe for a 4th time in 2018.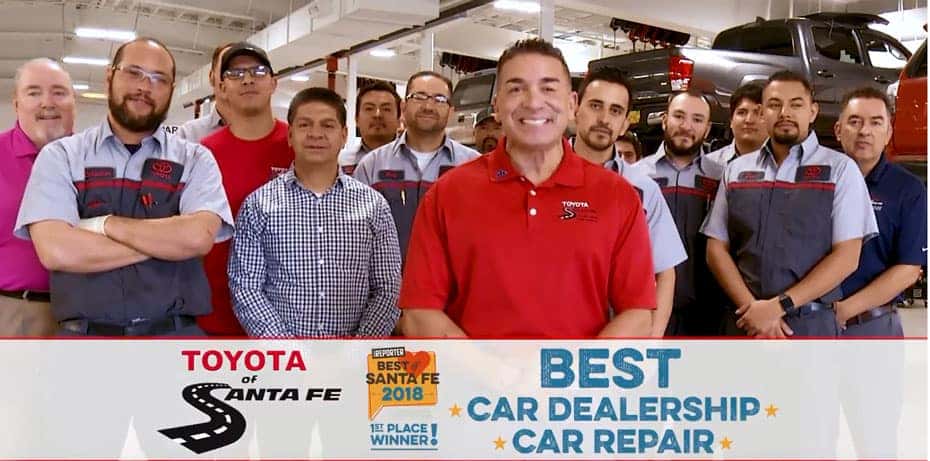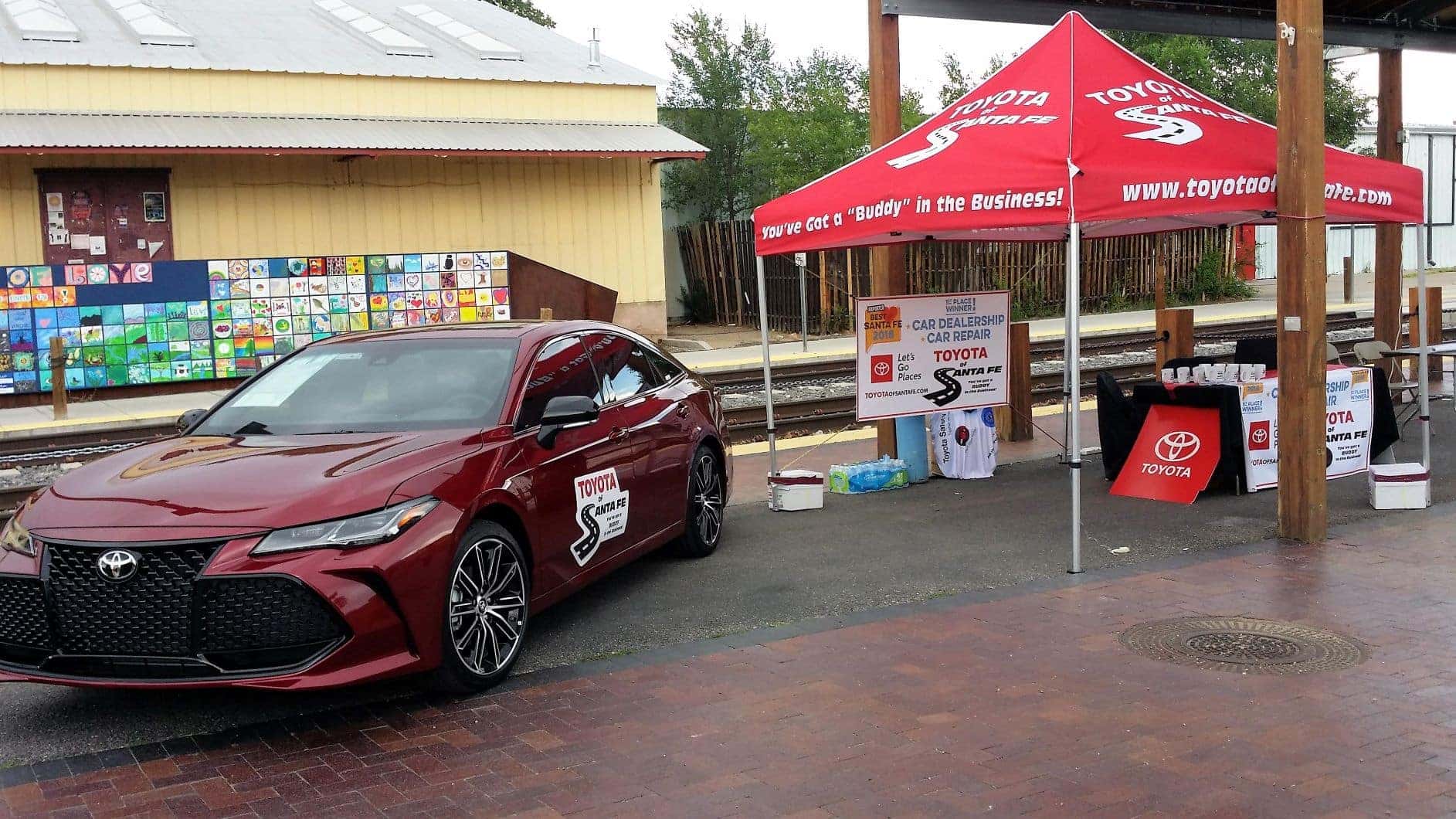 4th Time in a Row!  in 2018,  Toyota of Santa Fe Wins Best Car Dealer of Santa Fe.  But this year, we get a new award, best car repair of Santa Fe.

2018 Award 4 Times with a Cherry on Top
Toyota of Santa Fe won best car dealer for the 4th time.
AND this year, for the first time, Toyota of Santa fe won best car repair.
2017 Award  Three Times a Charm
Toyota wins "Best Car Dealership" in Santa Fe for 2015, 2016 and 2017. Santa Fe Reporter readers nominate and vote on the best products and services in Santa Fe.
Toyota of Santa Fe 2015-2016 awards
2016 Best of Santa Fe
We Did It Again
Toyota of Santa Fe was voted Best of Santa Fe for the 2nd time in a row in a survey conducted by the Santa Fe Reporter.  According to the Santa Fe  Reporter,  For 2017, they received 157,781 votes from approximately 15,000 voters!  Anyone with a valid email address is eligible to vote.
17,502 different persons voted in 2016 contest. The contest begins with a nominating period February through March. From there, the nominees with the most votes are selected for the general election ballot.
Toyota of Santa Fe also received congratulations from Toyota for receiving the prestigious
Presidents Award for 2015
Toyota Of Santa was first place winner. 2nd place went to Subaru of Santa Fe, third went to Capitol Ford.Other articles of interest.
More awards
2015 ballot
Looking Back at the 2015 Contest
[youtube https://www.youtube.com/watch?v=videoseries?list=PLU8xAPNL8HEQFfrtJfcmSaoL36nCMY16U]
1st Place Winners Get Together
Its always more fun to celebrate with friends! First Place winners Food Depot (Best Non-Profit) Honey Harris (Best DJ) and  Toyota of Santa Fe (Best Car Dealer) got together at Santa Fe Place Mall gathered together at the tents at Santa Fe Place Mall
Free Food!  Gifts for anyone that donates! Even Fun activities. Its no wonder we had such a turn out!
Toyota of Santa Fe held a food drive at Santa Fe Place Mall through Sunday August 14th.  You can still drop off your donations all month at 1500 St. Michaels Drive, in Santa Fe.  Participants received a free Red Bag for each donation. They also got to spin the wheel from Radio Station KBAC. Its never too late to participate.
NEEDED DONATIONS
It is never too late to Help the Needy. Please make these donations to Food Depot
Please note: The Food Depot CANNOT accept perishable or frozen foods, home-cooked or home-canned foods (including jams and jellies), or opened packages of food.
Food-Canned Fruits & Vegetables-Soups, Canned & Dried-Peanut Butter-Canned Tuna, Salmon & Meats-Canned or Bottled Juices-Cereal-Oatmeal-Beans, Canned & Dried-Rice, Dried-Pasta, Dried-Milk, Dried or Evaporated-Infant Formula-Baby Food-Applesauce
-Flour & Cornmeal-Macaroni & Cheese-Canned Pasta-Raisins & Other Dried Fruits-Pasta Sauce,Tomato Sauce-Nuts and SeedsPersonal Care & Household ProductsBar Soap-Toothpaste & Toothbrushes-Deodorant-Shampoo and/or
Conditioner-Toilet Paper-Dish Soap-Disposable Diapers
BEST OF SANTA FE SALUTES
Toyota of Santa Fe hosted 2 other Best of Santa Fe Winners during its own Celebration of what is best about Santa Fe at the Tents at Santa Fe Place Mall in our special recognition
Welcomed 2016 Favorite Radio personality Honey Harris from KBAC Radio.
Special appearances by Food Depot Volunteers Saturday afternoon for a Food Drive at the tents at Santas Fe Place Mall.
2016 BEST OF SANTA FE at the Railyards
Toyota of Santa Fe was one of the
sponsors of the 2016 Best of Santa Fe event
along with SunPower by Positive Energy Solar, Violet Crown Santa Fe and Santa Fe Railyard.
Our booth features the new 2016 Prius Three Touring. Many commented on the new body style. But the biggest surprise was the Qi wireless charging feature.
Our booth included 2 different register to win contests. We extended the
United Way "stay-cation".
This is an overnight stay at Hotel Santa Fe and $100 dinner at Amaya. Its a $300 total value.. That contest ends August 14th at our Best of Santa Fe event at Santa Fe Place Mall.
The second box from our Pet Friendly and Safety Promotion . As part of this event, we are giving away over $575 in prizes.
. That includes $300 in parts & accessories, 1/2 day guided fishing trip for two and four all access passes to Cliffs Amusement Park. .
SALUTES TO OTHER WINNERS
With nearly 200 categories, we don't have the space to recognize everyone, but we'd like to do a few callouts to other winners.
Special 2016 Best of Santa Fe Winners
Toyota of Santa Fe would like to recognize some other 1st place winners in the 2016 contest.
1st place Best Non-Profit of Santa Fe was awarded to the
Food Depot . who we sponsored in
2015's Souper bowl event .
1st place Best Animal Non-Profit of Santa Fe was awarded to the
Santa Fe Animal Sheltar Our partner in our Pet Safety promotion.
2016 Favorite Radio personality is Honey Harris, who bought her
Rav4, after working with us promoting every model we sold.
Best of Santa Fe Eating Out Winners 2016.
Best Asian Restaurant: Jinja.
Best Italian Restaurant: Piccolino
Best New Mexican Restaurant: La Chorza.
Best Bakery & Best Dessert: Chocolate Maven Bakery & Cafe.
Best Breakfast: The Pantry.
Best New Restaurant: Paper Dosa.
Best Chef: Ahmed Obo, Jambo Cafe.
Best Outdoor Patio: La Casa Sena
Best Fine Dining: Geronimo.
Best Seafood Restaurant: Mariscos La Playa.
Best Sushi Restaurant: Shohko Cafe.
Best Food Cart/Truck/Stand: Bang Bite FIlling Station.
Best International Cuisine & Best Business on Cerrillos Road: Jambo Cafe.
Best Breakfast Burrito & Best Tacos: El Parasol.
Best Frito Pie: Five& Dime
Best Burger: Santa Fe Bite.
Best Ice Cream, Gelato, Frozen Yogurt: Ecc Espresso & Gelato.
Best Chile – Green: Horseman's Haven.
Best Chile- Red: The Shed.
Best Pizza: Back Road Pizza.
Best Pupusas: Tune-up cafe.
Past Events
[youtube https://www.youtube.com/watch?v=kBw0XDXqY2k]
Toyota of Santa Fe Thanks Everyone for Voting them Best Car Dealer of Santa Fe!
Santa Fe Reporter Announced July 27th that Toyota of Santa Fe received the most votes for Best Car Dealer in Santa Fe.
Toyota of Santa Fe is also the winner of 2015 Presidents Award
One of the largest selections of Used Cars in New Mexico and it just got 20 times bigger 1 .
Our used car policy is: IF YOU DON'T LIKE IT, BRING IT BACK 2
We'll buy your car even if you don't buy ours. No hassle in having to show and sell your vehicle to a stranger. 4
Certified Quality Inspection plus a free carfax on every car we sell. 5
Buy online and we will delivery your car for no charge anywhere in New Mexico! 6
We shop over 25 financial institutions to get you the best rate 7
Live sales support 24/7. If you hear a recording, simply dial 6 8
Choose from a huge selection of over Certified Toyotas AND scions 8
Service opens at 7am weekdays. Sales is open late till 8pm. And both are open Saturday! 10
1Toyota of Santa Fe now has access to used inventory by over 20 other dealerships owned by RFJ Auto Partners
27 day exchange policy limited to pre-owned Vehicles Only. Maximum of 200 miles additional on vehicle from when it was purchased. Customer responsible to pay .50 cents per mile plus any wear and tear on the vehicle. Toyota of Santa Fe has the right to refuse under certain circumstances. Subject to change without notice.
4See any salesperson for a free appraisal of your vehicle or Tell us about it Online
5Toyota of Santa Fe employs certified mechanics, many with over 10 years of experience
6Toyota of Santa Fe will deliver any vehicle purchased online anywhere in New Mexico. Limited to initial delivery of the vehicle after purchase. See dealer for details.
7ALLY FINANCIAL, AMERICREDIT, ANIMAS CU, BANK OF AMERICA, BANK OF THE WEST, CAPITAL ONE, CARFINANCE, CHASE CUSTOM, CHASE PRIMECITIZENS ONE, CRESCENT BANK, DEL NORTE CU, FLAGSHIP, GATEWAYONE, KIRTLAND FCU, PRESTIGE, PRIME ACCEPTANCE, RIO GRANDE CU, SANDIA AREA FCU ,TD AUTO FINANCE, TOYOTA FINANCIAL SERVICES, US EAGLE FCU, US BANK, WELLS FARGO, WESTLAKE FINANCIAL, ZIA CREDIT UNION.
8For more information see us online at toyotaofsantafe.com/24-7-sales.html
9Based on online posted certified Toyota inventory as of 1/12/16
2015 Presidents Award
Toyota of Santa Fe Award In Our First Year
Its nearly unheard of for a store to earn Toyota's President's Award in your first year as a new dealership. How did Toyota of Santa Fe do it? For one, the store kept most of its highly qualified staff.
So, what exactly is the "Presidents Award" and what does it mean to our customers?
---
What is the Presidents Award?
Each year Toyota Motor Sales recognizes its finest dealerships with the prestigious President's Award. The President's Award honors Toyota dealers that excel in all facets of their operations. It is recognition for dealerships that continue to go above and beyond at each customer touch point and represent the best of the best.
Toyota of Santa Fe received the President's Award for Customer First from Toyota in its first year under the new ownership. This is highly unusual for a new dealership. Our region nominated us because they felt our dealership was able to achieve the high standings required.
What does it mean to you?
Several key areas are measured before a dealer is even considered. All of these areas have to do with how well we serve our customers. Every sale, every service is measured. This award measures how well we take care of customers like you.
Other Standards of Excellence
The Buddy Plan
When Beaver Toyota of Santa Fe became Toyota of Santa Fe, every employee became a buddy. Each of us is an advocate to make sure you receive the product or service that is right for you. You aren't an outsider at this dealership. You are part of our family and we treat you as such. We have a special area for your children and offer free treats for your pets. We open at 7am for our service customers and stay open until 8pm for our sales customers. We will deliver any vehicle you purchase to you anywhere in the state.
Service Excellence
Our Service department is in the top 3 in the district. We have some of the most experienced technicians in the state. Most dealerships strive to have one master certified service technician1. We have five.
Sales Excellence
Our sales staff is trained to ensure our customers receive accurate and superior assistance in selecting the right vehicle for them. Each salesperson is required to be certified within a year of their employment and to maintain their certification. Because of this, three of our salespeople have received special national recognition by Toyota. But the most important measurement is by our customers. Toyota of Santa Fe currently has 4.8 of 5 stars on DealerRater, an automotive dealer review site.2
Best of Santa Fe
This is a recognition as a result of an annual readers survey by the Santa Fe Reporter. Toyota of Santa Fe received back to back awards in 2015 and 2016.
1https://www.ase.com/Tests/ASE-Certification-Tests/Test-Series/Master-Status.aspx
2 Review status as of 11-15-16.
2015 Best of Santa Fe
New Mexicans voted for Toyota of Santa Fe in 2015 in a contest by Santa Fe Reporter
Toyota of Santa Fe's 2015 Best of Santa Fe at the Railyard.
[youtube https://www.youtube.com/watch?v=kBw0XDXqY2k]
Toyota of Santa Fe Attended the Celebration Event on August 1st. .
Toyota of Santa Fe Begans its thank you event at Santa Fe Place Mall August 13- August 17 with free food and a free concert August 16th from 1-3pm by the Jeronimo Keith Band.

2015 Event at Santa Fe Place Mall featured Jeronimo Keith